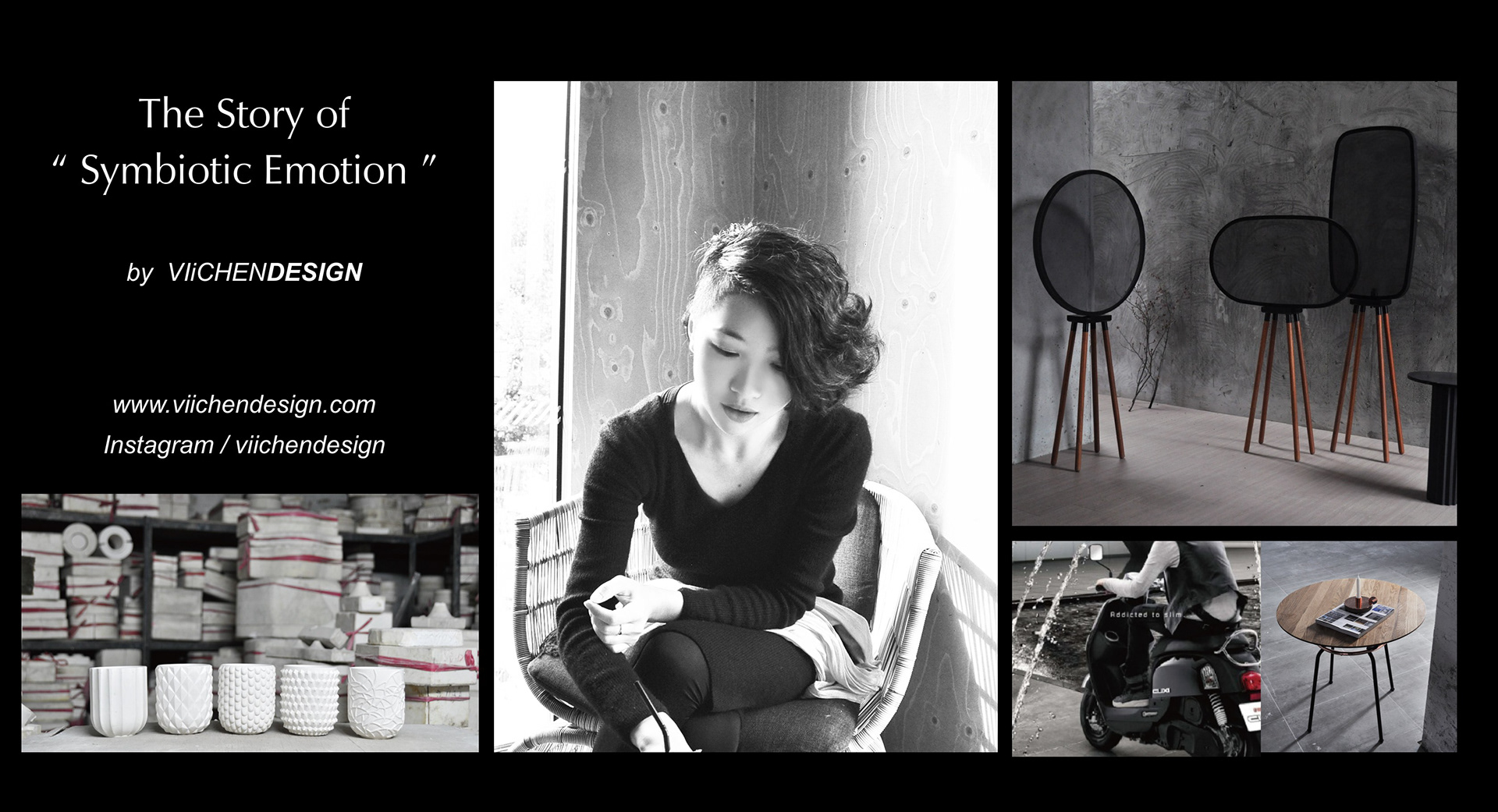 Other than just a simple object, the emotional design also provides people with a lot of fun and pleasure through the working of sensation and perception. By taking into account the core concept of "Symbiotic Emotion", Vii CHEN explores every aspect of design including concept, detail, present, and future. Vii emphasizes and focuses on utilization of materials and extension of production techniques, it adopts the physical experiences between the user and subject to connect the perception of users with touch memory and result in "Symbiotic Emotion" between people and the subject. It incorporates the image representing the knowledge and experience of human.
In 2013, Vii set up her own studio: ViiCHENDESIGN. As a woman with a unique personal style, Vii seeks inspiration from rich family art and insists on using design language to express her own design thinking and design freedom. Focus on her expertise in emotional design, Vii has won several top international design awards. At the same time of the year, Vii's work " fruit and vegetable peels cup" (double layer ceramic cup) also won her 2013 Red Dot: Junior Prize50, making Vii the first female designer from Taiwan to receive such an honor in addition to more than 20 international awards that she was granted, including iF Design Award, Red Dot Design Award, German Design Award, GOOD DESIGN Award JP, DFA Design for Asia, Shanghai 50/100 Junior Prize, Taiwan Golden Pin Design, Taiwan Good Craft...etc.
As Vii's Symbiotic Emotion begins to influence the design concept of the new generations, Vii takes on her role as a newly-emerged Asian designer whose works cover a wide range of subjects including industrial design, interior design, and furniture design, thereby demonstrating her excellent design in turn of concepts and details. As her works started to gain popularity, Vii was invited several times to serve as an international design judge at a tender age of 30, including Braun Campus Prize Taiwan, Panel of FRANZ AWARD…etc. and experienced in Jury Work for Design Awards and Newcomer Awards. This year, Vii was even invited to serve as the Chief Adjudicator jury and Judge for South Asia Preliminary Selection of Taiwan International Student Design Competition 2018 who facilitates mutual exchange and interaction among international design judges. At the same time, Vii was also invited to the forum of Australia VIVID SYDNEY FESTIVAL to share about her lamp design and modern tea set design under the core concept of Symbiotic Emotion as well as her innovation experience.
By collaborating with partners from all over the world: Japan Hirota Glass, USA camino home, HOTEL INDIGO, Taiwan HOME HOTEL and, Vii has assisted Royal Salute in designing the limited edition of porcelain whiskey bottles which are widely sold in the Asian market. By transforming the British teapot cover and royal crown jewelry into the shape of the oriental teapot and the crown of the emperor, the Royal Salute whiskey wine bottle is associated with the noble and profound tea culture that has been passed down through several generations. Vii has designed a classic style - which is also a porcelain work that combines the experience of the East and West drinks.
In recent years, Vii has deepened her emotional design and launched her art design with the core concept of "Symbiotic Emotion". With the suitability of the material applications showing an experimental creation at different levels, the emotional design presented and promoted by Vii has become a core value that cannot be overlooked in her creations. By integrating her emotion into her design, the emotional designs and functional designs can be further strengthened and optimized.
2021    40th International Young Designers'Exhibition (YODEX) Committee member 40週年新一代設計展品牌形象委員會
2021    Youth Innovative Design Festival judge 高雄文化局 青春設計節-立體造型暨產品設計 評審
2020    TAIWAN EXCELLENCE judge 29屆台灣精品獎 評審
2020    Hsinchu City Glass Award judge 新竹市金玻獎 評審
2020    40th International Young Designers'Exhibition (YODEX) Committee member 40週年新一代設計展品牌形象委員會
2020    Young Pin Design Award judge 金點新秀設計獎 產品設計類 評審
2020    LEXUS Design Award 全球社設計大賞-台灣區大師點評團隊
2019    Design Anthology Awards – furniture 傢俱類大獎
2019    Design Anthology Awards - Female Design Nominee 設計師提名獎
2019    Young Pin Design Award judge 金點新秀設計獎 創業潛力類 評審
2019    Golden Pin Concept Design Award judge 金點概念設計獎-產品設計類 初審評選委員
2019    Youth Innovative Design Festival judge 高雄文化局 青春設計節 - 立體造型暨產品設計 評審
2018    Good Design Award - WAYOU 小飲盛食
2018    Japan Sumida Modern - WAYOU 小飲盛食
2018    Taiwan International Student Design Competition 臺灣國際學生創意設計大賽 召集人暨評審
2018    Braun Campus Prize Taiwan judge - 德國百靈校園計大賽(恆隆行) 評審
2018    A+ Creative Festival judge  A+創意季 評審
2018    Young Pin Design Award judge 金點新秀設計獎 新新展 評審
2017    Cultural & Creative Award 文創精品獎 – 擂茶搗組
2017    Cultural & Creative Award 文創精品獎 – interlaced 交織屏風燈
2017    Golden Pin Design Award 金點設計獎 – WAYOU 小飲盛食
2017    Golden Pin Design Award 金點設計獎 – 擂茶搗組
2017    Golden Pin Design Award 金點設計獎 – interlaced 交織屏風燈
2017    Taiwan Good Craft Judgment Award 臺灣優良工藝品 – 擂茶搗組
2017    Braun Campus Prize Taiwan judge 德國百靈校園計大賽(恆隆行) 評審
2016    Shopping Design Best 100 – Original Brands of the year 年度最佳原創品牌
2016    Wallpaper City Guides
2016    FRANZ AWARD judge 法藍瓷陶瓷設計大賽 初賽評審
2015    German Design Award Nominee: Excellent Product Design 德國設計獎提名
2015    客家青年創新發展獎 文化創意產業發展獎
2014    ASIA Awards Young Creators Exhibition - design 日本東京設計師週
2014    Salonesatellite Milan 米蘭家具衛星展新銳設計師
2014    Taipei International Design Award 臺北設計獎
2013    Good Design Award - package 日本G-Mark設計獎
2013    red dot Young Professionals 德國紅點新銳設計師獎
2013    red dot Product Design Award 德國紅點設計獎
2013    Cultural & Creative Award 文創精品獎-精品大獎
2013    QUALIA Award 感質精英獎
2013    Taiwan Good Craft Judgment Award 臺灣優良工藝品 時尚獎
2013    Taiwan Good Craft Judgment Award 臺灣優良工藝品 機能獎
2013    Golden Pin Design Award - package design 金點設計獎
2013    Golden Pin Design Award - product design 金點設計獎
2013    W Taipei / TRASH【RE】Design 合作設計師
2012    上海設計師週50/100設計新銳獎
2012    入書APPortfolio 2012-2013亞洲青年創作集錄 Vol.3
2010      IF lebens(t)raume Design Award Winner
2009    Braun Prize China Announcement Winner
2009    red-dot Design Concept Award Winner
2021    Taiwan Lantern Festival 台灣燈會2021-街道家具設計展
2021    谷關入關博物館「PLUS 19 台灣溫泉鄉」展-商品設計團隊
2020    Taiwan Design Expo 2020 台灣設計展- 風格館「有種新竹」策展人
 2020    Design Movement on Campus 2020 學美‧美學 計畫 - 新竹北門國小 同心堂改造
2019    花蓮石資中心 – 2019 研石造物 擔任主策展人
2019    台灣文博會-苗栗形象館「漫山聚城 質粹苗藝 Cittaslow Miaoli, Qualia Craft」策展人
2019    Design STARS - IFFS 新加坡國際家具展 設計之星
2019    Taichung City River Exhibition 臺中島中流域展 參展
2018   馬來西亞臺灣形象展 Taiwan In Design 臺灣設計館
2018   EAST DESIGN SHOW 意思設計展(上海)受邀展出 – 新浪家居媒體區&青春集市
2018   遠東百貨 大器非凡文創工藝展X壹心 走味大稻埕巡迴展
2018   T I S D C 臺灣國際學生創意設計大賽 召集人暨評審
2018   Braun Campus Prize Taiwan 2018 - 德國百靈校園計大賽(恆隆行) 評審
2017   ART FORMOSA 2017 福爾摩沙國際藝術博覽會 誠品行旅
2017   ART FORMOSA 2017 福爾摩沙國際藝術博覽會 誠品行旅
2017   INTERIOR LIFE STYLE TOKYO - IN TAIWAN IN DESIGN & IN STYLE
2017   黑生起司 crossover 藝廊限定 POP-UP / 藝聚空間
2017   Salonesatellite Milan 米蘭家具衛星展展出
2017   SaloneSatellite20Years 米蘭家具衛星展 20 週年主題展邀請
2017   Creative Expo Taiwan 台灣文博會
2016   Dubai design week 2016
2016   VVG CHAPTER 好樣文房與日本設計師河原尚子SIONE聯展
2016   臺中歌劇院WAVES 概念店 WAVES store in National Taichung Theater
2016   Interior Lifestyle China in Shanghai 上海國際時尚家居用品展
2016   Salonesatellite Milan 米蘭家具衛星展展出
2016   INTERIOR LIFE STYLE TOKYO - IN TAIWAN IN DESIGN & IN STYLE
2016   Creative EXPO Taiwan 台灣文博會- 主題展
2015   POP UP SHOP in HuaShan1914 首次限定概念店於華山文創園區
2015   Taiwan Design Expo 台灣設計展
2015   MAISON&OBJET PARIS 巴黎家飾傢俱展
2015   FORMOSA FORMS, Munich red-dot museum 紅點設計巡迴展
2015   Creative EXPO Taiwan 台灣文博會-La VIe 文創100市集
2015   Creative EXPO Taiwan 台灣文博會-亞洲新銳設計師 創意設計類區
2015   Taiwanese Design Faces 臺北紅點設計博物館特展
2015   The Newborn Design Exhibition 新生・設計展
2014   日本東京設計師週 ASIA AWARDS Young Creators Exhibition-DESIGN
2014   Gifts from the Star Exhibition in Taipei101
2014   泰國曼谷 BIG+BIH 國際禮品家飾展
2014   MAISON&OBJET - 品牌形象展
2014   POP-UP STORE 形象展CameZa╳黑生起司╳好食光生活廚房
2014   東京國際家居生活設計展 Interior lifestyle Tokyo
2014   Salonesatellite Milan 米蘭家具衛星展展出
2014   MADE BY EVERYONE「獅子計畫 PAPER VASE PROJECT」
2013   red dot product design award Taiwan Museum
2013   red dot product design award Germany Museum
2013   倫敦設計週 ( Tent London designer week ) 展出
2013   TDC X W Taipei / TRASH【RE】Design 合作設計師 
2013   台北金點新生活運動主題展 – 台灣種出好設計櫥窗展
2013   台中民俗文物館開館特展 – 百工具 聚市集展覽
2013   台灣設計師週大會主題展 AROUND 展出
2013   ICCIE Beijing 作品展出
2013    Interior Lifestyle China
2013   Dian Shin / Design Refreshment - Treasure Trove of Tainan
2012   台北誠品西門店邀請展/RE__TOUCH展覽 共同策展人
2011   台灣設計師週策展人RE DESIGN
2009    ICSID World Design Congress Singapore